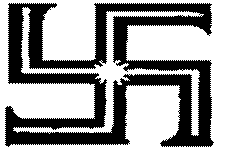 Contrary to what Liberals™ would have you believe, Christians are persecuted all over the world by every other belief system including atheism, socialism, liberalism, and all other religious beliefs with the possible exception of Buddhism and Shintoism (and there may be minor instances with those as well).

There is exactly one faith in the world today that is tolerant of other faiths. That is Christianity. Yes, we evangelize and try to convert people to our faith, but we do not murder them or destroy their places of worship. Of course the Left™ will lie and tell you differently.

I have been pointing out persecution by Muslims. Islamic persecution is a surprise to no one. The situation with Hinduism is little better.

From Compass Direct, FOUR CHRISTIANS ATTACKED, ARRESTED AFTER SERVICE, Court grants bail to believers, but police refuse to file complaint against assailants.
August 22 (Compass Direct News) - Hindu extremists on Sunday (August 20) beat four Christians, including a pastor, who were later arrested on charges of "forced conversion" in Madhya Pradesh state.

A group of about 15 extremists punched and hit the Christians with hockey sticks soon after worship ended at about 10:30 a.m. After the initial attack, the extremists dragged the Christians to the Sheopur police station about 500 meters away, beating them en route. The police promptly arrested the Christians, as a complaint against them had already been filed.

Pastor K.K. Jwala of the Sheopur Bible Fellowship (SBF) church and three members, identified only as Anup, Jijo and Raju Mathew, were released from the Sheopur district jail at 8 p.m. on Monday.

The officer in charge of the police station, Hukum Singh Yadav, also allegedly beat up Pastor Jwala at the facility. Yadav was not available for comment.

The four accused will have to appear before the court on August 30.
Note the recurring pattern. The Christians who were attacked are the one arrested. The attackers are not charged. Read the whole thing.